"A Texas/National Gaited Horse Experience"

Click on the Facebook link above to see our day-to-day activities, entertaining pictures, videos as well as training, riding and general care tips.
CLICK HERE TO READ "ABOUT US" and
Click here: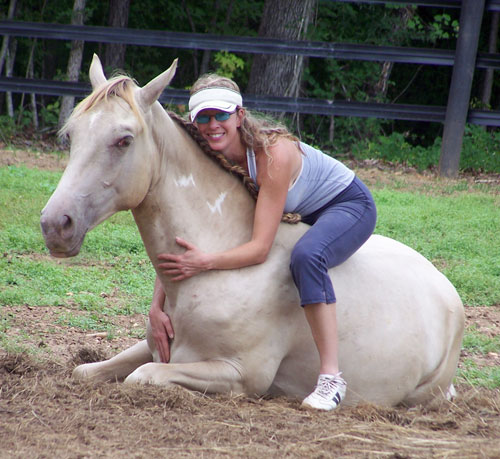 to see happy new owners!

(All of the following horses have current (within one year) negative coggins, and all are on grass hay as well as MG 12/8 pellet feed (12% protein, 8% fat). They are stalled during the daytime and turned out to pasture at night for freedom and socialization.)
---
"Patron" -- Gorgeous, stocky like a Quarter Horse, big, round rump, 15H and 9 years old, registered TWHBEA. He performs a fun smooth racking gait and also a head shaking Tennesee Walk, all four-beat and smooth as silk. He is forward going, so a timid rider is not going to feel comfortable on him. He is for sale now for $6500, currently learning to sidepass, pivot, forehand turn and is doing really great on the obstacle course.

Click on his photo at left to go to his page for more information, photo and video.
---
"Bonita" -- Gorgeous, classy true ambassador for the Tennessee Walking Horse breed. Barefoot or shod, she performs a beautiful Tennessee Walking Horse walk, and her disposition is sweet and willing to please. She has been shown in trail pleasure classes and trail ridden on camping trips in Tennessee and Texas. We are training her on obstacle courses for a possible competitive trail career because we love desensitizing exercises and believe that it really expands a horse's training. She is learning to side pass, pivot and forehand turn. She loads, bathes, backs, and is easy to catch in the pasture. No trouble anywhere you put her -- pasture, stall, trailer. We do so much traveling and camping that our horses get on and off a trailer with no issues, and are taught to stand tied for hours and overnight. Bonita is a direct daughter of Jose Jose and out of a direct daughter of Gen's Armed & Dangerous, whose dam was a direct daughter of Pusher. Excellent bloodlines for a broodmare, as well! $6500

Click on her photo at left to go to her page for more information, photo and video.
---
*Sold* Congratulations to Chuck and his family in Georgia, who purchased their first Walking Horses from us about 15 years ago!

"Delilah" -- Stocky, strikingly beautiful black sabino 15.1H 3-1/2 year old wide-chested Tennessee Walking Horse mare with extremely sweet disposition, very willing. She has a gorgeous silver streak in her tail which flows behind her, four long white stockings and a bald face which makes her so flashy in a crowd. Her bloodlines are the top of the industry, and she has the talent to ride the trails all week and then go to the show ring on Saturday night and win her share of ribbons. Very sensible minded, this is a lifetime kind of horse. No mareish attitude and gets along well in the pasture/stall/trailer with other horses. $4500 -- SOLD

Click on her photo at left to go to her page for more information, photo and video.
---
"Mocha Choca Laca" -- Nice, nice natural going, four-beat gaited racking mare with beautiful color and really fantastic slow rocking little canter, effortless. I think the most inexperienced horseperson could make this mare slow canter successfully. She is a forward moving mare that the girls love to ride, because she is spirited and fun, yet still makes them feel safe. She has been shod before, but her hooves are extra strong and tough and we have her barefoot now and she goes anywhere and everywhere nice and sound. $2750

Click on her photo at left to go to her page for more information, photo and video.
---
"Josie" -- Beautiful, personable TALL 2-1/2 year old 15.1 jet black Tennessee Walking Horse mare with long legs that you can see is going to carry her to a maturity height of 15.3H and maybe 16H. She loves people and greets you with bright, inquisitive eyes, ears forward, cute, sweet disposition. She has impressive bloodlines with several World Grand Champons showing on her papers, like Gen's Armed & Dangerous, Suns Delight D, and one of my favorites, Mark of Carbon, Triple Threat, Ebony Masterpiece and GLL's Carbon Copy. She has a really nice, forward motion ground-covering gait with big back end and rolling front end, pulling from the shoulders like a true Tennessee Walking Horse should. Josie is a fun project at her age, and with our camping and trail experience, is going to make someone a really high quality pleasure horse, show prospect and certainly an impressive broodmare prospect. $3750

Click on her picture to go to her page for more information, pictures and videos.
---
*Sold* Congratulations to Chuck and his family in Georgia, who purchased their first Walking Horses from us about 15 years ago!

"JC -- Handsome 15H 9-yr-old black Tennessee Walking Horse gelding. This is seriously one of the automatic smoothest gaited horses I've ever ridden in my life. Incredibly smooth. Back problems? This is a GREAT horse for anyone who needs a glide ride. He's very, very sweet natured and loves to be pampered, petted, groomed and fussed over, yet he's not spoiled. JC will perform both a gliding, head shaking Tennessee walk, AND will rack with style, as well. As a bonus, he has a natural, slow, rocking chair canter that is automatic and so easy to sit. He slips into it it effortlessly and people who do not usually canter discover what they've been missing, and are thrilled by it. His sire is Pride's Stormy Night/Sun's Delight D bloodlines and his dam is Generator/Pride's Jubilee Star bloodlines. Advanced beginner and up. $4500 -- SOLD

Click on his photo at left to go to his page for more info, pics and videos.
---
"Tater Tot" -- Cutest little guy EVER! Miniature buckskin 10-yr-old gelding trained to cart. Probably anyone of any age can drive this guy -- he's very willing and not spoiled, as you can see in his video. This is one that will teach you how to drive. He is also a pretty good lawnmower -- we turn him loose in the front yard or stake him out in different places in the yard to 'weed eat'. Cutest little leather harness with brass accent and knobs on the hames comes with him, as does his cart. $2500

Click on his photo at left to go to his page for more info.
---
| | |
| --- | --- |
| | "LaBella Dawn" -- Gorgeous 15 - 15.1H 7-yr-old smoky black spotted tobiano Tennessee Walking Horse mare -- gorgeous, four-beat gaited, no pace!!! Barefoot, healthy rock hard hooves, flowing long mane and striped tail. Gentle and exceptionally smooth gaited. We had turned her out to pasture for a few months, and just got her up and back on the riding string the week of 8/20/15. We would LOVE to have a foal out of her, so we did breed her to our beautiful golden palomino stallion, Diamond Dak for a spring, 2016 foal, which could be palomino, palomino spotted, as well as a myriad of other choices. Click on her picture at LEFT to go to her page to see more info. Two for one pice $4950 |
---
*Sold* Congratulations to Karen in Utah!

"Jasmine" -- Beautiful, glossy, big-boned sweetheart of a gaited mule! Her dam was a Tennessee Walking Horse mare and of course, her sire was a gaited jack. She has been shown some, trail ridden quite a bit on many camping trips, including Tennessee, Texas, and Kentucky, and she's a wonderful size, stout enough for any large man to ride, yet gentle enough for a small child to feel safe on. Jasmine gets along great in the pasture, stall or trailer alongside other horses or mules, never any trouble She has always behaved herself like the gentle mule that she is, and she has been turned out to pasture for 3 or 4 months without being handled, brought up, saddled and she went right back to work, just as gentle as the last time she was ridden. Since mules have a longer life span than horses, she can certainly offer someone a lifetime of joy. She's very surefooted and agile, athletic. We showed her in June of 2014 at a gaited horse show, and Ruth, who was 14 years old at the time and just learning to ride and how to train horses, worked her for the month prior to get her ready. When she entered the arena for her first class, a man in the audience started complaining that this was a horse show and mules didn't belong there. There were about 8 horses in that first class, and as Ruth put Jasmine to work on the rail, she went to performing that perfect, even, four beat gait with her head nodding along and ears flopping like an old time walking horse. When the announcer called out their name for second place, the man who had been complaining stood up, clapped as loud as he could and cheered them on to their red ribon. Everywhere Jasmine goes, she wins a few fan with her sweet personality, big ol' ears that she doesn't mind being scratched, and large, adoring eyes. She loves being petted, groomed and bathed. Pretty much a lifetime kind of mule. $6500 *SOLD*

Click on her picture at left to go to he page for more info, pics and videos.
---
*Sold* Congratulations to David

in South Carolina!

"Rolex" -- Gorgeous 15.1H golden palomino 4-yr-old Tennessee Walking Horse gelding with tons of "Look At Me" presence, and a fantastic, fun racking gait. Will perform a sweet slow canter, as well. We purchased him when he was about 18 months old and turned him out to pasture for a little over a year to run with the cattle and broodmares and be a 'kid'. This horse has the cutest personality and it shows in his face. He has a refined head, carries himself with pride, and has great bloodlines. He is a grandson of Trip My Trigger on top, and his dam is a direct daughter of Seve. We have hauled him across the country on many camping trips, including the Colorado Rocky Mountains and the Missouri Ozarks. This is one BEAUTIFUL animal. (But don't tell him that -- he thinks he's human!) $7500 *SOLD*
---
*Sold* Congratulations to Laura in Midland, Texas!

"Gonzo" -- Unusual bronze color -- dappled, bronze buckskin with iridescent shining coat when the sun hits it. We raised him, trained him and have hauled him on camping trips to TN, KY and TX. We have raised and trained several of his brothers and sisters and all of them have wonderful gaits. Bronzo has a smooth four-beat gait, and easy, rocking canter all naturally. Absolutely ZERO PACE in this boy! This beautiful, sweet natured gelding backs, side passes, pivots, forehand turns, loads, bathes, easy handling of his hooves, and comes to you in a pasture. $4750 *SOLD*

Click on his photo at left to go to his page for more info.
---
SOLD!!

Congratulations to the Hesselbacher family in New Hampshire.

"Prince Harry" -- Registered SSHBEA (Spotted Saddle Horse), this old soul was bred and born in Tennessee to a loving family who sold him when he was a yearling and he came to Texas. We turned him out with the cattle, broodmares, other youngsters and let him be free to be. Cheyenne is 12 years old and had expressed a desire to learn how to train a horse from the beginning, and we chose Prince Harry for her project, due to his extreme sweet, gentle nature. Under our supervision, Cheyenne has done every single bit of the work to get him on the trails! She put an extensive round pen foundation on him, drilled for perfect gait, worked on correct leads, trained him to pivot, forehand turn, side pass, go through obstacle courses like a champ, and recently, we started him in the harness, pulling a cart. His gait is wonderfully smooth and his canter is a fairy tale rocking chair. he is barefoot in this photo and has spent all of his life so far barefoot, except for the last 6 weeks when we put front shoes on our horses to take them to Missouri. Prince Harry comes from Pride of Midnight bloodlines on the top, and Paint's Rooster on the bottom. He is a lifetime kind of horse that probably the whole family would feel safe on. $6500 Click on his photo at left to go to his page for more info, pics and videos.
---
SOLD!!

Congratulations to Opal in Arkansas!

"Kiss" -- 5-1/2 year old 14.2H red flaxen mane and tail sabino Tennessee Walking Horse mare. We raised her, trained her the right way, then turned her out for a long time with the broodmares and cattle to just grow up and mature. When we pulled her back out of the pasture recently and started riding her again, she took up like we just left off yesterday. She is spirited and fun to ride, very flashy and has only had one set of shoes on in her life, and that's because the kids wanted to take her to a playday where they had racking classes, and we wanted to see if it she would pick her front feet up just a little higher. You can see in the video above that it really didn't make much of a difference -- she was still the same old automatic transmission kinda gal! Rock hard hooves of steel, perfect gait. In foal to our stallion "Diamond Dak" for a March, 2016 baby. $4250

Click on her photo to go to her page.
---
SOLD!!

Congratulations to Nora in Missouri!

"Sundance" -- Beautiful stocky 8-yr-old golden palomino from the John A's Chance bloodline on top, and Prides Generator/Sun's Delight D on the bottom. He will turn 8 years old on 6/21/15. Sundance is a really nice registered Tennessee Walking Horse palomino gelding that has a great head shaking running walk and a sweet canter, but a fabulous racking gait with quite a bit of speed. We clocked him at 14 mph the other day and that is with him being 'rusty' and not ridden for awhile. He could be considered a finished trail horse because he will go anywhere and across any obstacle that you point him at. He is a sensitive horse, meaning that he steps off immediately when you tell him to, stops immediately, etc. No buck or rear, but my experience with beginner and timid riders has been that they want sluggish type mellow horses, so even though we could put a beginner on this horse under our supervision, I would prefer that he go to a home with at least an advanced beginner and up. Fun fun, lots of trail miles, will go anywhere you ask. Sure footed and smooth. $8500

Click on his photo to go to his page.
---
SOLD!!

Congratulations to Jennifer and her family in Oklahoma.

"Painted Ringo Starr" -- Gorgeous big bone, large framed natural gaiting black & white tobiano Tennessee Walking Horse stallion by our beautiful "Alen's Painted Desert" and out of our fine Delight Bumin' Around/Ebony Mountain Man mare. Possibly homozygous for tobiano and black. We imprinted him when he was born, trained him to walk respectfully at halter, back, move off pressure, load in a trailer, tolerate highway traffic, dogs, sheep, goats, cattle, pigs, motorized farm vehicles, and he does great on the obstacle course in hand. Great start in life, will make a great family horse, trail riding horse, or future herd sire. $2500 Click on his picture to go to his page to see more info.
---
"We call him "Don Diego de la Vega"

The first time I saw him, I thought "beautiful colt", but wasn't in the market for a grey or a young horse, and especially not a young stallion. (He is now a gelding.)

And then, his owner unloaded him from the trailer, and I heard the melody to a Neil Diamond song start to play in my head . . . . except, instead of "then I saw her face, I'm a believer!", I heard "then I saw him MOVE, now I'm a believer!" This colt had such stunning fluid athletic moves that I didn't care if he was purple or mud brown, I knew he was special. He performs a beautiful head shaking, floating running walk and a nice, rocking chair easy athletic canter.

But then, I love an athletic animal that I feel secure riding through any terrain, especially a sure footed horse in the mountains. This colt has the stuff.

We are reluctantly offering him for sale, and if he doesn't sell, we are really looking forward to developing him under saddle when he comes of age.

(Not for sale at this time)

Click on his photo to go to his page.
---
SOLD!!

"Cadillac Jack" -- 7-1/2 year old 15.3H chocolate Kentucky Mountain gelding, probably gentle for anyone to ride. He is absolutely a wonderful, compliant, smooth, willing pleasure mount, and we have hauled him to camping trips and trail rides in Kentucky, Tennessee, Arkansas, Texas, as well as a trail challenge recently, in which he won the youth division. He slow canters, side passes, backs, pivots, forehand turns, nicely seasoned quiet horse. $8500

Click on his photo to go to his page.

SOLD!!
---
.
SOLD!!

Lucky horse will spend his new life in the beautful state of Colorado!

"Remington" -- Drop dead gorgeous tri-colored 3 yr old Tennessee Walking Horse gelding that probably ANYONE can ride and feel safe, yet be thrilled by! We sold his dam in foal with him, she raised him in her back yard with loving care and gentle kindness, and then brought him to us to put through our natural horsemanship program. Never been abused or known any kind of mistrust with humans, one-owner horse raised the right way. Gentle, but not spoiled, very respectful. Gaits -- he is the one all the kids argue over who gets to ride him. Wonderful smooth gaits, nice back end, easy sweet rocking canter on correct leads, side passes, pivots, forehand turns, backs, has been hauled on a few camping trips with us. This is DEFINITELY a lifetime horse, and the kind that everyone is looking for. He is a direct son of our beloved old stallion "Go Boy's Champagne Pride" and out of a sweetheart gentle mare. With two docile-as-a-lamb parents, he just can't help but be GOOD! Truly, the kind everyone is looking for. $8500 Click on his picture to see more info.
---
"Misti" -- Cindy purchased Misti from us 4-1/2 years ago and loves her to the moon, but life's situations get in the way and she is not able to have a horse any longer, so someone is going to get a rare opportunity to own a mare of this caliber, which doesn't come on the market very often. If you like a little spunk, lots of willingness and good behavior, smooth gaits barefoot or shod, excellent pedigree, flashy chrome, athletic ability and as a bonus, the option to reproduce all these great traits, Misti would make a great family addition for you. Currently in foal to our stallion "Diamond Dak" for a March, 2016 foal. Not for sale at this time.

Click on her photo to go to her page for more info and videos.
---
Congratulations to little Liv from Washington State
on the purchase of our beloved Alen's Painted Desert!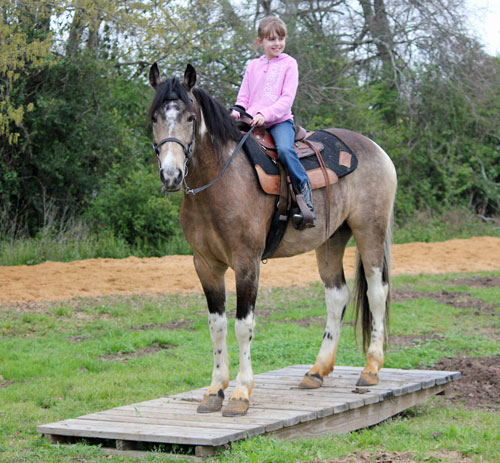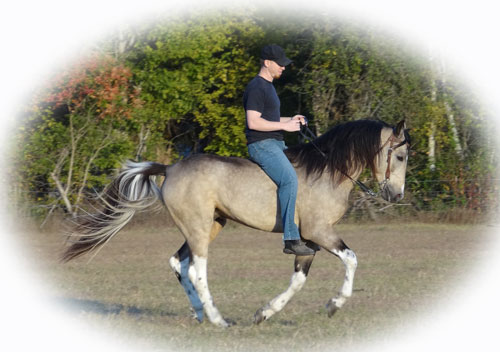 "Alen's Painted Desert" --**SOLD** Meet our sure-footed, four-beat gaited, rocking chair cantering, easy, gentle Spotted Alen Again bred buckskin tobiano gelding. Gentle as a puppydog and most anyone can ride him and feel safe. Head-shaking Tennessee Walk, slow carousel canter, side passes, forehand turns, pivots, water obstacles, can pony colts off of him, hauled across the nation on camping trips -- click on his picture to see more info and video. This horse is ready for competitive trail competition, hauling across the nation for trail riding, working cattle, or anything you might want to do with him. $15,000 Click on his picture for more information and his history. **SOLD**
---
---
For anyone who has lost a loved one or a cherished pet, please click HERE.
---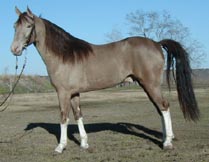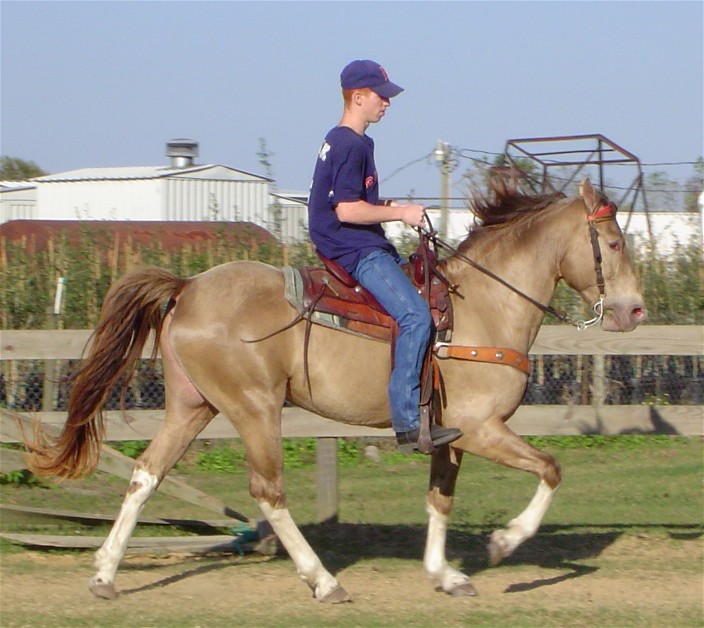 "Go Boy's Champagne Pride", known around the barn as "Gunsmoke"
Click here to see GO BOY'S CHAMPAGNE PRIDE (Gunsmoke) info and progeny
Want a Tennessee Walking Horse that looks like this? Check out our baby page to buy your own Tennessee Walking Horse colt/filly sired by this stallion and other beautiful stallions.
Click here: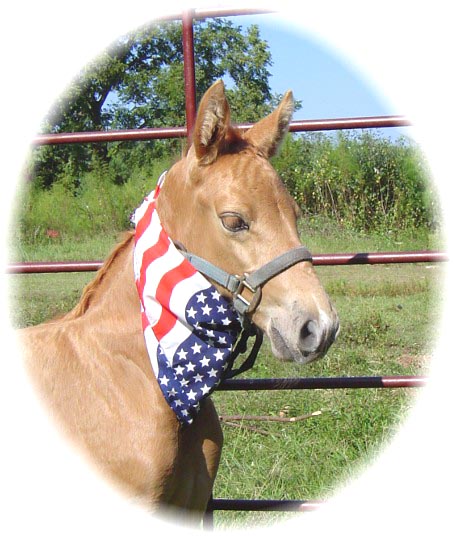 for babies for sale.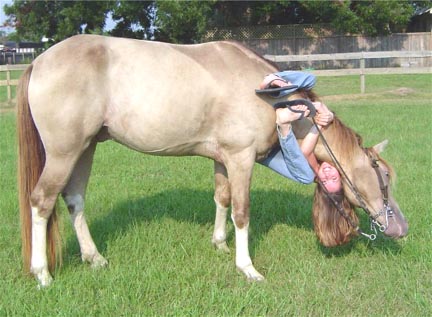 WARNING: This stallion ( "Go Boy's Champagne Pride", also known as "Gunsmoke") may not be exciting enough for your taste. (Click on his picture to go to his page.) This is the first time (on 9/1/05) that he has been ridden in two years, and Jennifer chose to ride him bareback. She thought (actually hoped) that he would challenge her riding skills, and after a 20-minute workout with no misbehavior for her to practice her horse whispering on, she couldn't decide whether to challenge him herself or hug him, so she did both!!
---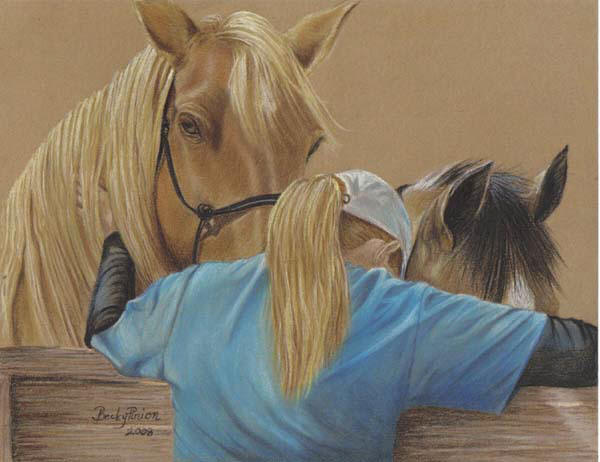 Want a personal portrait of your loved one (Horse, Dog, etc.)? Click on this picture to see more info.
---
Congratulations, Hannah and "PattyCake" on your FFA Showmanship Grand Championship!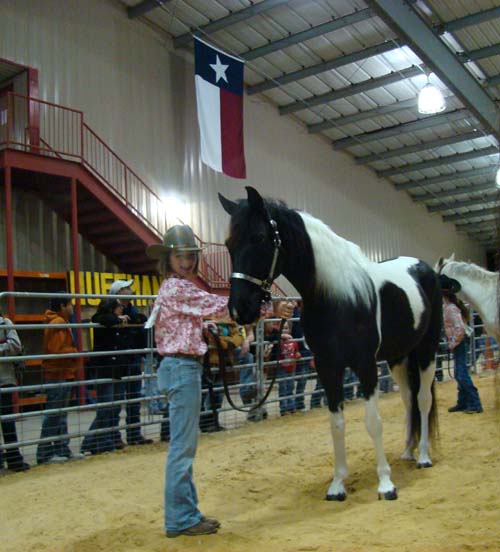 Click on Hannah and Pattycake's picture ABOVE to see video of their win.
WARNING: Horses are addictive substances, Click HERE for testimony.
Click here:
to see happy new owners! And . . .
Click here: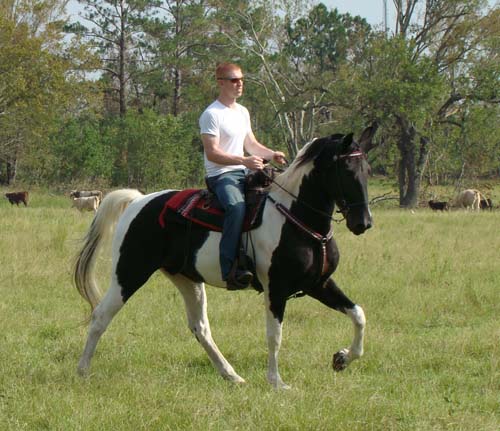 to see horses that we've sold previously.

And click here:

to see our "secret"
(Why our horses are happy and well-behaved!)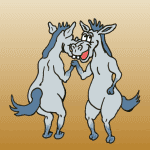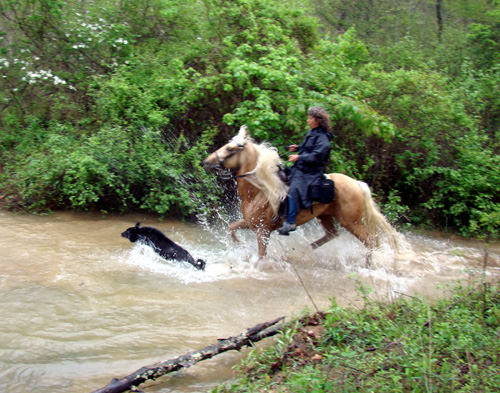 Click on dancing horses at LEFT or on Lynn riding Pistolero at RIGHT to go to our "Good Times" page to see all the activities we do with the horses, and trips that we take. More pics and videos coming soon!
All of the Tennessee Walking Horses are registered with the Tennessee Walking Horse Breeders' & Exhibitors' Association, unless otherwise stated. Some are also registered with the Racking Horse Breeders' Association and/or the Spotted Saddle Horse Breeders' & Exhibitors' Association (or National Spotted Saddle Horse Association), and all have current negative coggins report (within one year).

Click above to email me.
NOTICE: We are not a 9-5 business, and since we work and travel a lot, we show horses on an appointment basis. Please be sure to call and set up an appointment before driving out here -- we'd hate for you to make the drive and then us not even be home for a few days! (We state this now because it has happened a couple of times already.)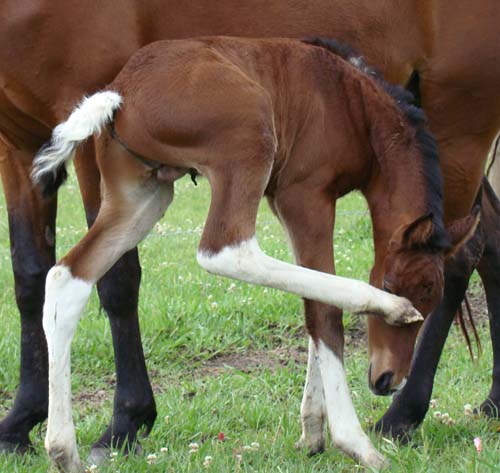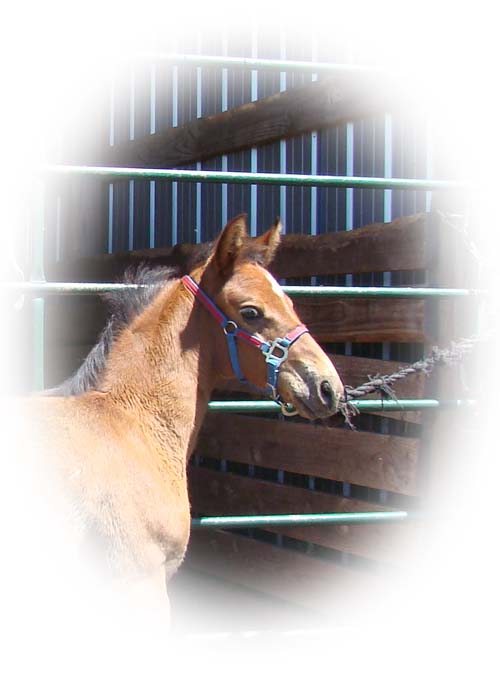 Click on either picture to see weanlings/yearlings for sale!


What does the elephant and the Tennessee Walking Horse have in common? Wanna see proof that the Tennessee Walking Horse is an all-natural gait, not man-made? Click on the elephant to find out!

CLICK HERE

TO SEE PICTURES OF HORSES WITH THEIR NEW OWNERS.
---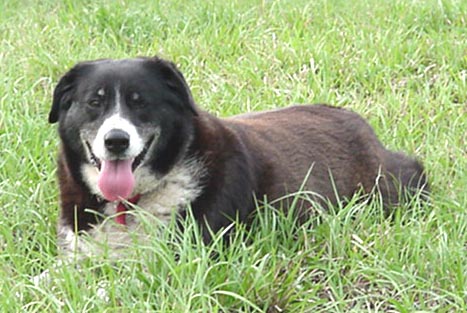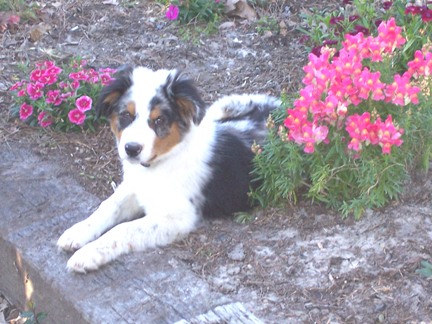 These wonderful companions help us train these horses to ensure that your new pleasure mount is not afraid of dogs! Click on DJ's picture to spend some time with the dogs we ride with!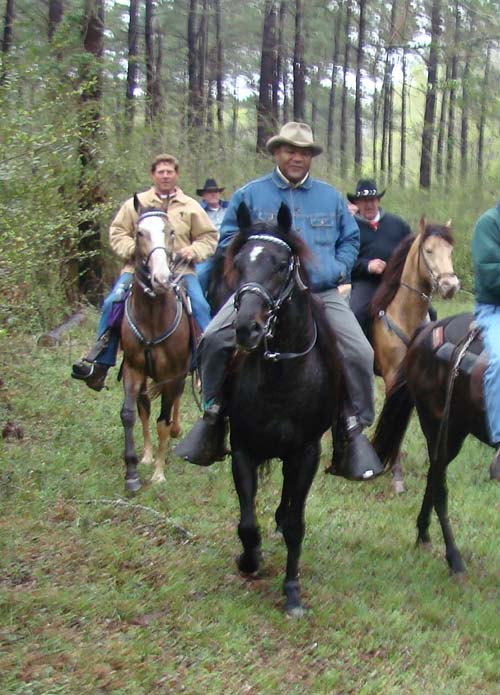 Click on George's picture ABOVE to see a page of our trail rides, parades and camping trips.
October, 2010 NWHA show:

First horse show for this duo! Hannah wins several blue ribbons on Joy (click on her picture to see more)

October, 2011 NWHA show:

Second horse show for this duo (different judge)! Hannah wins several blue ribbons on Joy and this time, she does it on her own, without my supervision! This is a dynamic team of talent, for sure!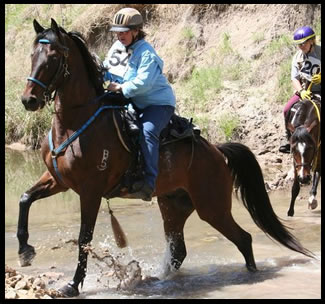 2010 Year End Champion Horseman Division Texas Trail Challenges
riding "LV King Tuck", a beautiful stout bay horse she purchased from us in 2006. Click on their picture to see video from our recent weekend on this competitive trail ride and for more info on Texas Trail Challenges.
Announcing: "Peddlin' The Gold"
4-yr-old Beautiful Palomino Tennessee Walking Horse Mare


*** NATIONAL SUPREME VERSATILITY CHAMPION***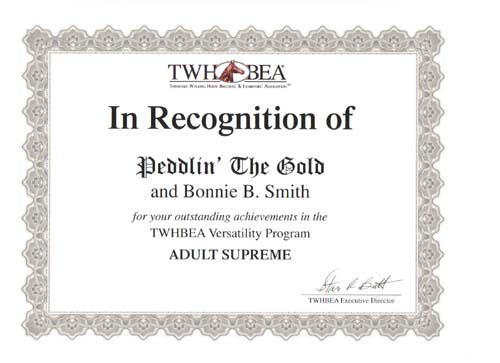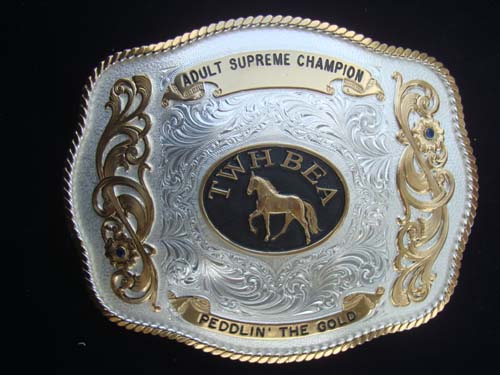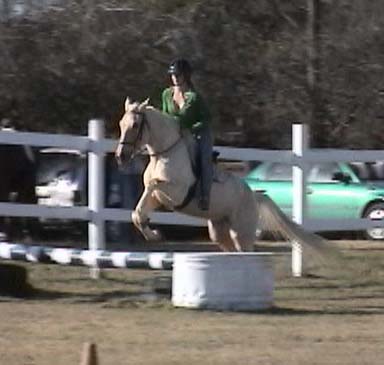 Click on any of the three pictures above to see more info!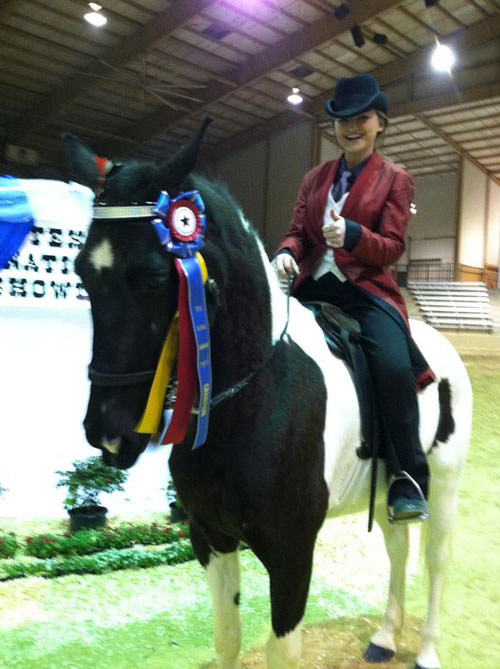 Congratulations to Becca and caitlin on their championship wins this weekend (3/3/12) at the lone star gaited pleasure association show in lufkin, texas! click on leo's picture to see their story.
---

These pleasure Tennessee Walking Horses are ridden daily through neighborhoods around traffic, dogs, 4-wheelers, 18-wheelers, school buses, cattle, emus and we take them through the National Forest, to the Gulf of Mexico to play in the ocean, the river, organized trail rides, parades and even an occasional show or two. We have relied on honesty, quality and integrity for the last 15 years to maintain a solid reputation and these horses will be exactly what we tell you. All vices/personality traits are disclosed up front before you meet the horse. Weanlings and yearlings Tennessee Walkers have been imprinted at birth, taught to lead, stand tied, handle their feet, be clipped and load in a trailer. If you desire, we can arrange for a vet check on the horse you are interested in, and for out-of-state buyers, you can check to see what your state requires for shipping a horse (from anywhere) into your state, as well as a list of equine transport companies, by clicking on the animated "Hobo Horse", above left. (Most of the time, all that is required is a negative EIA (neg. coggins) within 12 months and a health certificate within 30 days.) All sales transactions are the jurisdiction of our barn in Hardin, Liberty County, Texas.
Please note that a review of these pages does not constitute solicitation of sales.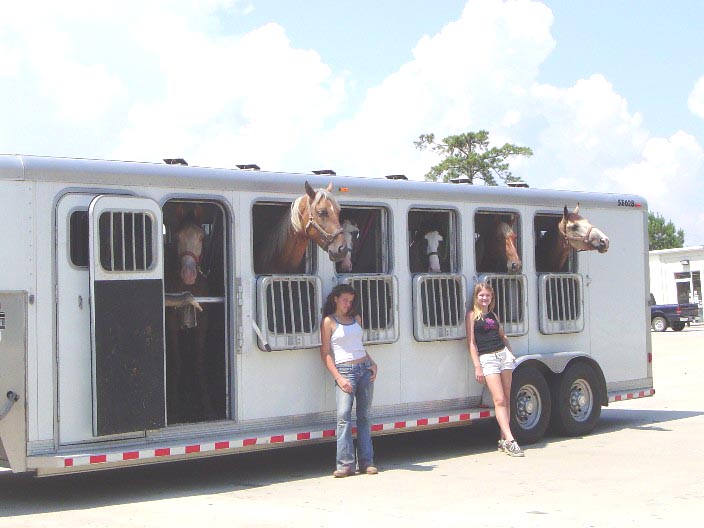 Lunch break at a restaurant on the way to the Angelina Forest.

If you would like a video of one of the above referenced horses, please specify which one(s) on your check or in a separate note, and send either click on the Paypal button at the bottom of this web page, or mail $10 (per tape, not per horse) to:

Cloud 9 Walkers
P. O. Box 878
Hardin, Texas 77561-0878
(55 minutes east of Houston)
281-726-4545
(Entire contents of this website copyrighted by Cloud 9 Walkers)

Email me!







I have found, through this website, that there are so many wonderful, sympathetic people in the world and many of you have been through situations like mine (nursing a loved one with a terminal illness). Cancer is a terrible thing, and the only thing I can think of worse is war. Thank you all for sharing your stories with me and for your support and encouragement. You probably have no idea how much you've all helped with the time you took to email, even those of you not inquiring about a horse. Life is short, even for healthy people, so LIVE IT UP! Bless all of you! Click HERE for info, links and testimonial on colon cancer.
Thanks to all you wonderful, kind, loving people who wrote me and prayed for me during my own recent battle with cancer: Click HERE for more details.
"Far better to dare mighty things, to win glorious triumphs, even though checkered by failure, than to take rank with those poor spirits who neither enjoy much nor suffer much, because they live in the gray twilight that knows not victory, nor defeat."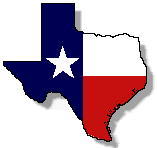 "Every man dies. Not every man truly lives." -- Braveheart

since 5/24/11


Click above to email me or contact me at LKidder328@aol.com
Telephone number: (281) 726-4545
Located in Hardin, Texas (zip 77561)