"A Texas/National Gaited Horse Experience"

Click on the Facebook link above to see our day-to-day activities, entertaining pictures, videos as well as training, riding and general care tips.
THIS is what we do. We recently put together a "reunion/refresher" camp, which several previous customers brought their horses to and rode with us while we offered pointers and helped with any issues they might have questions about, and we all had a very, very LARGE time! Gourmet meals at camp, fellowship dinners, singing and laughing around the campfire. Click on the above embedded arrow to ride along with us.
CLICK HERE TO READ "ABOUT US" and
Click here: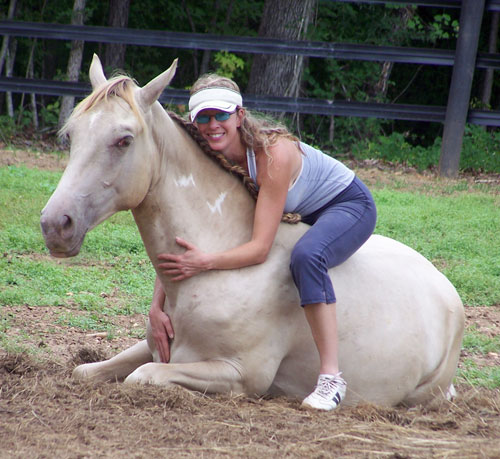 to see happy new owners!

(All of the following horses have current (within one year) negative coggins, and all are on grass hay as well as MG 12/8 pellet feed (12% protein, 8% fat). They are stalled during the daytime and turned out to pasture at night for freedom and socialization.)

.
"Karma" -- Gorgeous, sweet, natural (barefoot or keg shod) by a direct son of Coin's Hard Cash and out of a direct daughter of The Skywatch and Pride's Rolling Rock on the bottom. We have trained him to picket line and have taken him on several extensive camping and trail riding trips in Texas, Kentucky and Tennessee. He crosses water, steps over logs, performs a beautiful head shaking true Tennessee Walk, a wonderful athletic carousel canter. He will step over a log to be mounted, stand quietly at the mounting block, and we have trained him on several obstacles on our obstacle course, including ponying another horse. This is a very, very nice lifetime kind of horse. $6500 Click on his picture to see more info. ***SOLD***

***SOLD***
---
| | |
| --- | --- |
| | "Anna" -- This gorgeous creature could be the smoothest horse you ever rode, and she is fairy tale beautiful. Anna is a direct daughter of the World Grand Champion "Hard Texas Cash" (by the World Grand Champion "Coin's Hard Cash") and out of a Sun's Delight D granddaughter. She is 9 years old, barefoot and so smooth gaited that I call her 'Butter Feet". Her head is very refined and beautiful, with a long arched neck, sloping shoulders right out of the textbook, big rump, thick mane and tail, and already a proven broodmare, as well as a trail horse. $6500 Click on her picture to see more info. |
---
| | |
| --- | --- |
| | "Gigi" -- 9-yr-old 14.2H champagne Tennessee Walking Horse mare recently ridden on the trails in the piney woods in East Texas. She is barefoot in these pictures and video. Her dam was a tiny little buckskin Tennessee Walking Horse mare that we owned years ago, and small world that it is, we sold her when she was a weanling and now 9 years later, she winds up with us again! Click on her picture to go to her page to see more info. $3750 |
---
Congratulations to little Liv from Washington State
on the purchase of our beloved Alen's Painted Desert!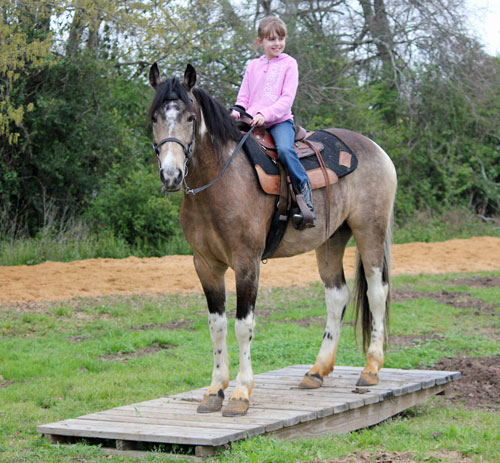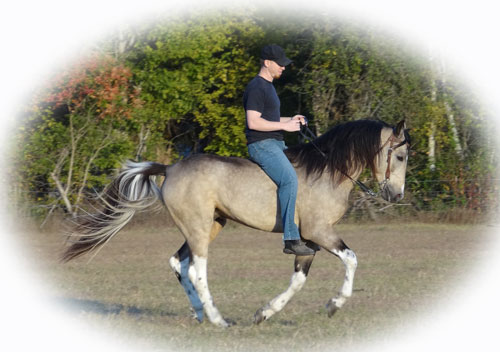 "Alen's Painted Desert" --**SOLD** Meet our sure-footed, four-beat gaited, rocking chair cantering, easy, gentle Spotted Alen Again bred buckskin tobiano gelding. Gentle as a puppydog and most anyone can ride him and feel safe. Head-shaking Tennessee Walk, slow carousel canter, side passes, forehand turns, pivots, water obstacles, can pony colts off of him, hauled across the nation on camping trips -- click on his picture to see more info and video. This horse is ready for competitive trail competition, hauling across the nation for trail riding, working cattle, or anything you might want to do with him. $15,000 Click on his picture for more information and his history. **SOLD**
---
| | |
| --- | --- |
| | "Brando" -- Extremely nicely gaited, nicely built Tennessee Walking Horse gelding that we bred and raised ourselves. We have raised many gentle siblings from his dam, and his sire is superbly four-beat gaited. Brando is a very unique color -- almost chocolate with a silverish blondish chocolatish mane and tail and his stockings and blaze really make him flashy. We imprinted him at birth and he's had a rock solid round pen foundation and being ridden in the round pen. He will back on a light rein, halt, stand quietly, pivot, forehand turn, side pass and step over a log to be mounted, as well as being hauled around to different trails, the lake, the beach, etc. Click on his picture to see more info. NOT FOR SALE AT THIS TIME |
---
| | |
| --- | --- |
| | "Lorena" is a beautiful black and white spotted (tobiano) Tennessee Walking Horse filly for sale that will have a magnificent gait, classy high headset, probably mature to 15.2 or 15.3H, and has had a really good start in life, being imprinted at birth and taught natural horsemanship training/respect early. She already knows how to lead, stand tied, pony, have her feet handled, be groomed/bathed, load in a trailer and be led by a 4-wheeler. She is well accustomed to dogs, turkeys, chickens, cattle, sheep, goats, and extemely busy highway traffic and she's not even 4 months old yet! We plan to wean her no earlier than September 1st and no later than November 1st. She eats feed, hay and grazes along with her mother now. (We named her Lorena after a character in Lonesome Dove, but her new owner could change her name.) $1950 Click on her picture to see more info. |
---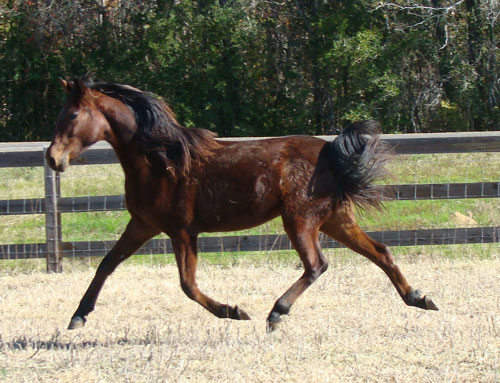 Our future speed racking filly! (NOT for sale at this time -- we are looking forward to the joy of developing her.)
By George Foreman's "Cocoa" and out of his mare "Miss Amazin'"
Click on her picture to go to her page and follow her progress.
---
For anyone who has lost a loved one or a cherished pet, please click HERE.
---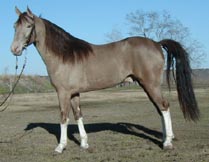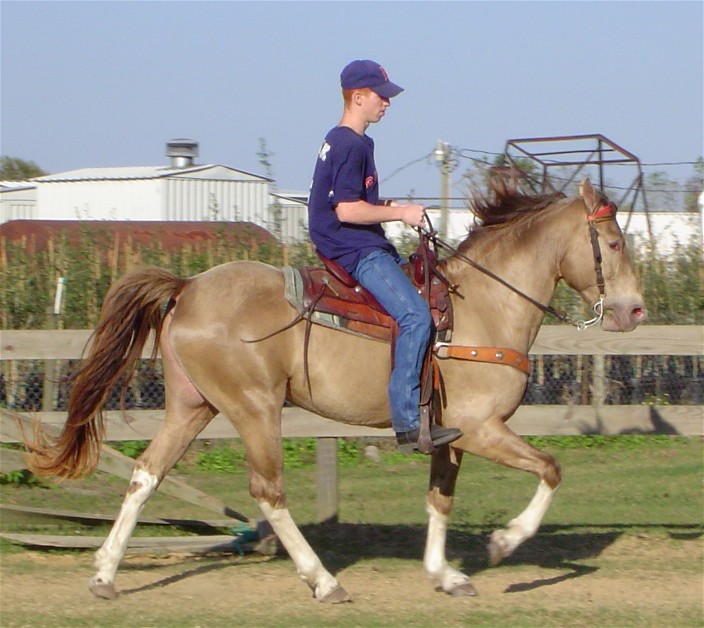 "Go Boy's Champagne Pride", known around the barn as "Gunsmoke"
Click here to see GO BOY'S CHAMPAGNE PRIDE (Gunsmoke) info and progeny
Want a Tennessee Walking Horse that looks like this? Check out our baby page to buy your own Tennessee Walking Horse colt/filly sired by this stallion and other beautiful stallions.
Click here: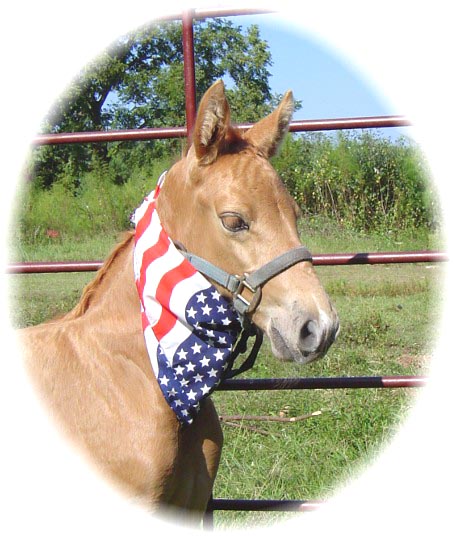 for babies for sale.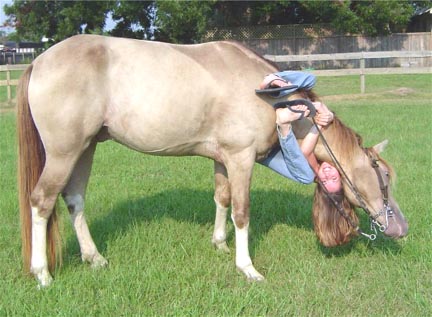 WARNING: This stallion ( "Go Boy's Champagne Pride", also known as "Gunsmoke") may not be exciting enough for your taste. (Click on his picture to go to his page.) This is the first time (on 9/1/05) that he has been ridden in two years, and Jennifer chose to ride him bareback. She thought (actually hoped) that he would challenge her riding skills, and after a 20-minute workout with no misbehavior for her to practice her horse whispering on, she couldn't decide whether to challenge him herself or hug him, so she did both!!
---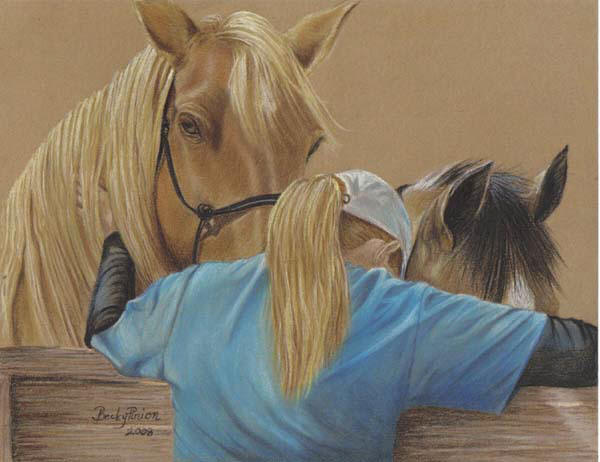 Want a personal portrait of your loved one (Horse, Dog, etc.)? Click on this picture to see more info.
---
Congratulations, Hannah and "PattyCake" on your FFA Showmanship Grand Championship!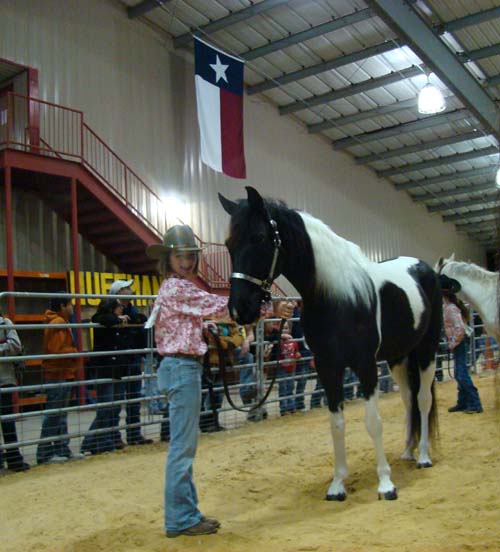 Click on Hannah and Pattycake's picture ABOVE to see video of their win.
WARNING: Horses are addictive substances, Click HERE for testimony.
Click here:
to see happy new owners! And . . .
Click here: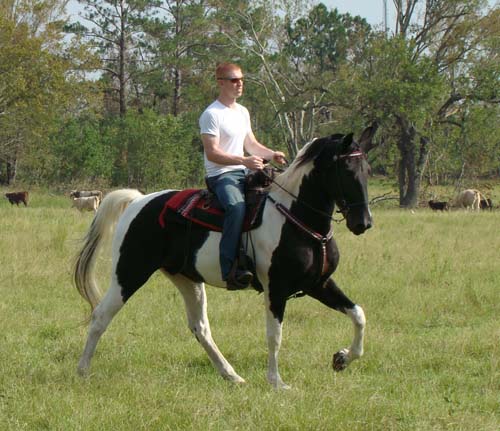 to see horses that we've sold previously.

And click here:

to see our "secret"
(Why our horses are happy and well-behaved!)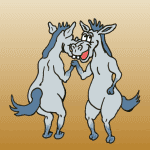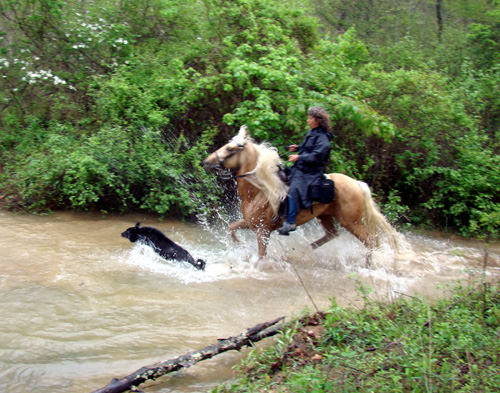 Click on dancing horses at LEFT or on Lynn riding Pistolero at RIGHT to go to our "Good Times" page to see all the activities we do with the horses, and trips that we take. More pics and videos coming soon!
All of the Tennessee Walking Horses are registered with the Tennessee Walking Horse Breeders' & Exhibitors' Association, unless otherwise stated. Some are also registered with the Racking Horse Breeders' Association and/or the Spotted Saddle Horse Breeders' & Exhibitors' Association (or National Spotted Saddle Horse Association), and all have current negative coggins report (within one year).

Click above to email me.
NOTICE: We are not a 9-5 business, and since we work and travel a lot, we show horses on an appointment basis. Please be sure to call and set up an appointment before driving out here -- we'd hate for you to make the drive and then us not even be home for a few days! (We state this now because it has happened a couple of times already.)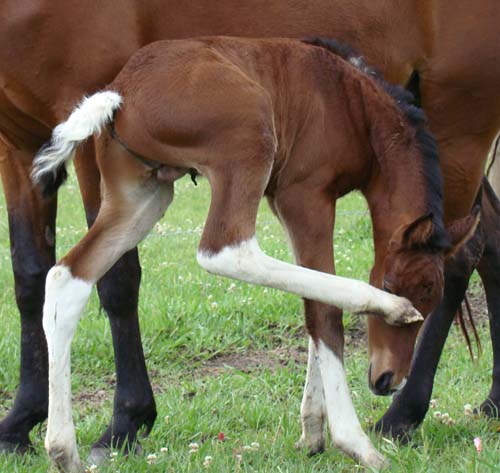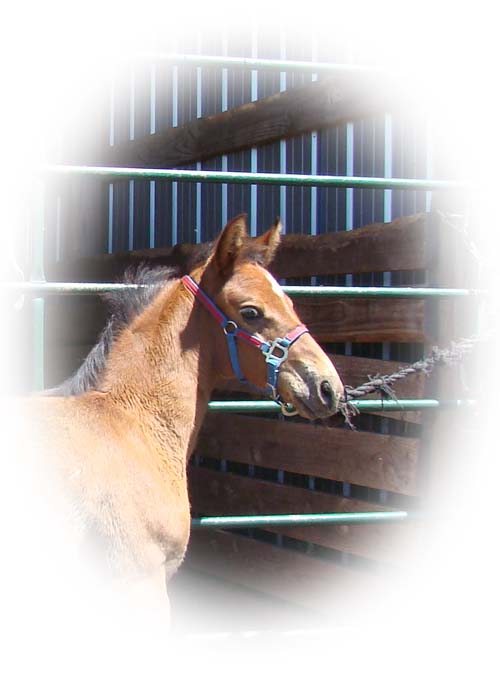 Click on either picture to see weanlings/yearlings for sale!


What does the elephant and the Tennessee Walking Horse have in common? Wanna see proof that the Tennessee Walking Horse is an all-natural gait, not man-made? Click on the elephant to find out!

CLICK HERE

TO SEE PICTURES OF HORSES WITH THEIR NEW OWNERS.
---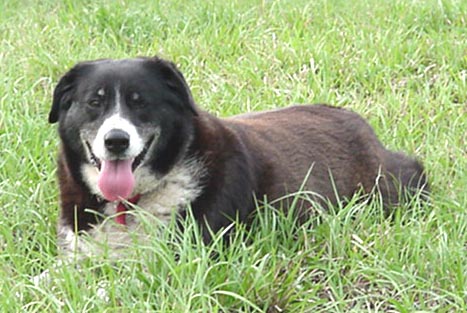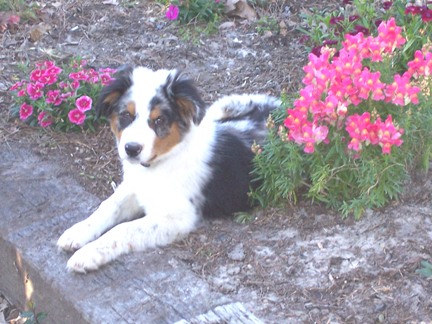 These wonderful companions help us train these horses to ensure that your new pleasure mount is not afraid of dogs! Click on DJ's picture to spend some time with the dogs we ride with!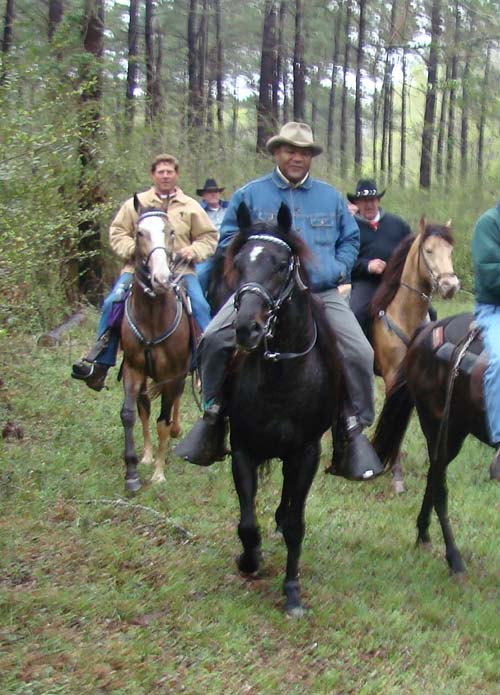 Click on George's picture ABOVE to see a page of our trail rides, parades and camping trips.
October, 2010 NWHA show:

First horse show for this duo! Hannah wins several blue ribbons on Joy (click on her picture to see more)

October, 2011 NWHA show:

Second horse show for this duo (different judge)! Hannah wins several blue ribbons on Joy and this time, she does it on her own, without my supervision! This is a dynamic team of talent, for sure!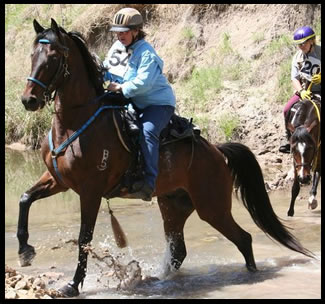 2010 Year End Champion Horseman Division Texas Trail Challenges
riding "LV King Tuck", a beautiful stout bay horse she purchased from us in 2006. Click on their picture to see video from our recent weekend on this competitive trail ride and for more info on Texas Trail Challenges.
Announcing: "Peddlin' The Gold"
4-yr-old Beautiful Palomino Tennessee Walking Horse Mare


*** NATIONAL SUPREME VERSATILITY CHAMPION***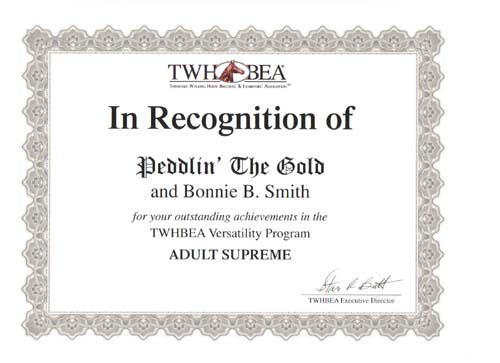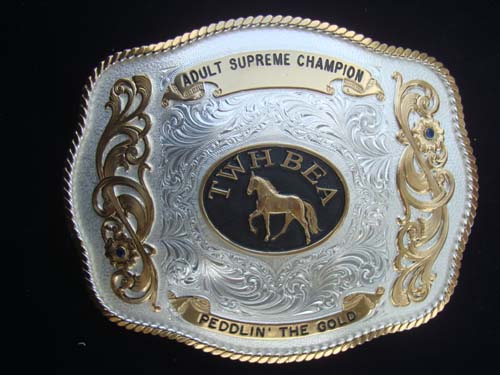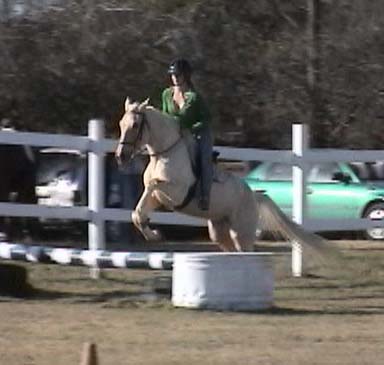 Click on any of the three pictures above to see more info!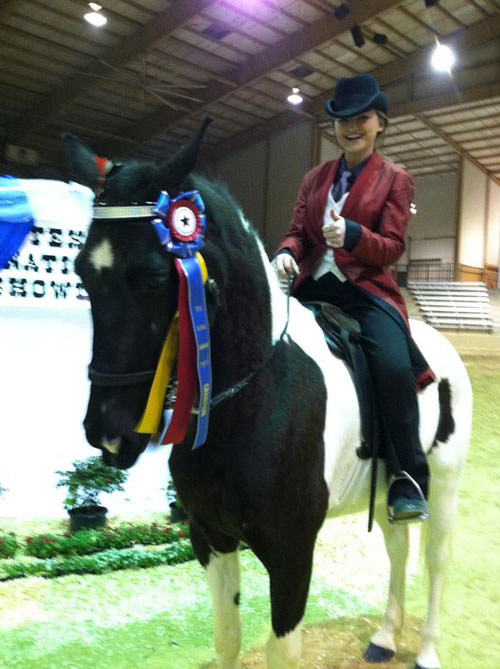 Congratulations to Becca and caitlin on their championship wins this weekend (3/3/12) at the lone star gaited pleasure association show in lufkin, texas! click on leo's picture to see their story.
---

These pleasure Tennessee Walking Horses are ridden daily through neighborhoods around traffic, dogs, 4-wheelers, 18-wheelers, school buses, cattle, emus and we take them through the National Forest, to the Gulf of Mexico to play in the ocean, the river, organized trail rides, parades and even an occasional show or two. We have relied on honesty, quality and integrity for the last 15 years to maintain a solid reputation and these horses will be exactly what we tell you. All vices/personality traits are disclosed up front before you meet the horse. Weanlings and yearlings Tennessee Walkers have been imprinted at birth, taught to lead, stand tied, handle their feet, be clipped and load in a trailer. If you desire, we can arrange for a vet check on the horse you are interested in, and for out-of-state buyers, you can check to see what your state requires for shipping a horse (from anywhere) into your state, as well as a list of equine transport companies, by clicking on the animated "Hobo Horse", above left. (Most of the time, all that is required is a negative EIA (neg. coggins) within 12 months and a health certificate within 30 days.) All sales transactions are the jurisdiction of our barn in Hardin, Liberty County, Texas.
Please note that a review of these pages does not constitute solicitation of sales.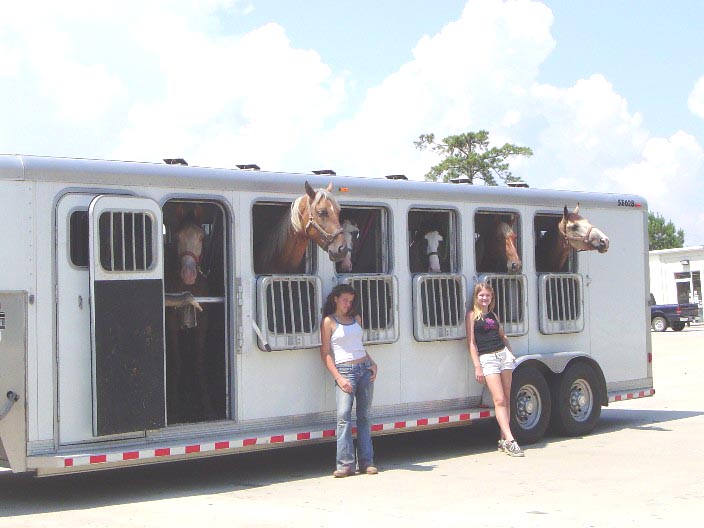 Lunch break at a restaurant on the way to the Angelina Forest.

If you would like a video of one of the above referenced horses, please specify which one(s) on your check or in a separate note, and send either click on the Paypal button at the bottom of this web page, or mail $10 (per tape, not per horse) to:

Cloud 9 Walkers
P. O. Box 878
Hardin, Texas 77561-0878
(55 minutes east of Houston)
281-726-4545
(Entire contents of this website copyrighted by Cloud 9 Walkers)

Email me!







I have found, through this website, that there are so many wonderful, sympathetic people in the world and many of you have been through situations like mine (nursing a loved one with a terminal illness). Cancer is a terrible thing, and the only thing I can think of worse is war. Thank you all for sharing your stories with me and for your support and encouragement. You probably have no idea how much you've all helped with the time you took to email, even those of you not inquiring about a horse. Life is short, even for healthy people, so LIVE IT UP! Bless all of you! Click HERE for info, links and testimonial on colon cancer.
Thanks to all you wonderful, kind, loving people who wrote me and prayed for me during my own recent battle with cancer: Click HERE for more details.
"Far better to dare mighty things, to win glorious triumphs, even though checkered by failure, than to take rank with those poor spirits who neither enjoy much nor suffer much, because they live in the gray twilight that knows not victory, nor defeat."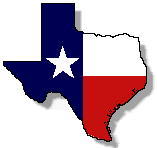 "Every man dies. Not every man truly lives." -- Braveheart

since 5/24/11


Click above to email me or contact me at LKidder328@aol.com
Telephone number: (281) 726-4545
Located in Hardin, Texas (zip 77561)